Outer Limits Consulting
Phone Systems
If you're still using an on-premise phone system, you may be missing out on features that can help your business be more efficient.
Today's VoIP (
V
oice
O
ver
I
nternet
P
rotocol) phone
services
typically cost about the same as running an old phone system, even one that was paid off many years ago.
We've helped our clients replace their old phone systems with new,
feature-rich
VoIP phone systems without increasing the monthly cost, and can show you how you can reduce your current monthly phone/Internet bill and use those savings on a new VoIP phone service.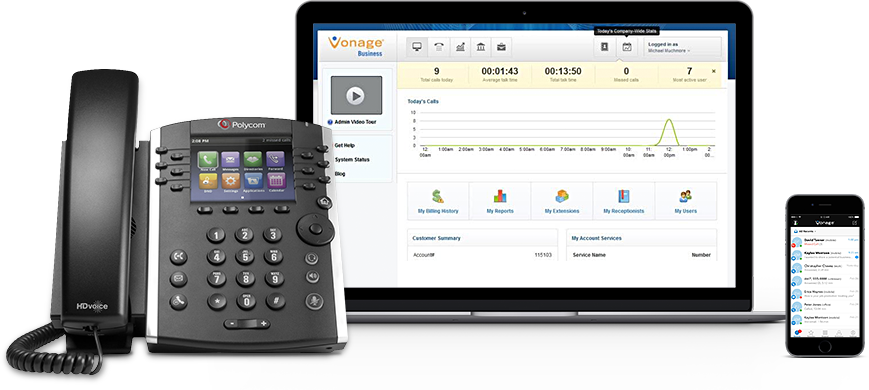 Here's an explanation that applies to many small businesses:

You currently own your own phone system, which consists of the phone "switch" (the box hanging on the wall in the back telephone closet) and the desktop phones.  You pay Comcast for the phone service, which is about $30/month for each line (each line enables 1 concurrent call, so having 4 lines means you have a maximum of 4 incoming/outgoing calls at once) plus some equipment rental.

With Comcast Business VoiceEdge (or any other VoIP service) you don't own anything and don't pay monthly for the number of lines. Instead you pay a monthly fee for each person/extension (called seats), plus $0-8 rental per phone, depending on how fancy the model is.

With old phone systems, you own a $3000 phone system and pay $30 x 4 to have as many desktop phones sharing those 4 lines.

With new VoIP service, you don't own anything, pay about $25 per phone and you're not limit to the number of calls at once.

One of the biggest benefits is that if anything breaks you just call and they fix/replace it right away.

But the biggest benefit is that the features and technology are constantly increasing.  So automated attendants, voicemails sent to email, notifications sent to cell phones, etc. are all features that you will get that maybe weren't avaiable when you bought your current phone system.

Today, without a doubt, VoIP is the way to go and will completely replace almost all old phone systems within a few more years.  If you have 20 phones, or more, it might be worth looking at buying your own VoIP system, but for smaller offices the VoIP service is the way to go. And since it usually costs the same or lower than today, and you get a whole bunch of new features, it's really a no brainer.
Serving clients in Peachtree City, Fayetteville and Newnan since 2001.